Temple Israel was established in early 1924, when Long Beach had just 125 Jewish residents. Both Orthodox and Reform members worshipped in a community building on Anaheim Street. When a major earthquake shook Long Beach in 1933, Temple Israel served as headquarters for relief efforts. This was the genesis of social action at our temple. But the earthquake also left the building badly damaged. Reform congregants raised funds to construct a new building at Third and Loma streets. An innovative rabbi who led Temple Israel in the 1950s incorporated music into services, and helped grow the religious school to nearly 500 students. A half-century later, the temple experienced another resurgence. In November 2012, Temple Israel moved into a completely renovated building. Since then, its continued emphasis on music, spirituality, and community has attracted new members and expanded programming. Temple Israel hired its first ordained cantor, Sara Hass, in 2015. The congregation welcomed a new rabbi, Scott Fox, in July 2020.
For a detailed account of the social and political events (as well as the internal drama!) that shaped Temple Israel over the past 100 years see below.
The emergence of Long Beach's Jewish Community
Jews have had a presence in Long Beach nearly since the turn of the 19th Century. The first Jewish family arrived in Long Beach in 1898, when real estate developer Samuel Heller and his family moved from Michigan. In 1906, 18 year-old Ralph Goldman left St. Louis and settled in Long Beach, where he opened a shoe store on the corner of Broadway and Pine Avenue. In the years following World War I, several leaders in the community—primarily Adolph Rosenfeld, and Louis and Gertrude Ball—attempted to organize services and  even to create a religious school for the handful of Jewish children in the community. In 1923, Revan (Dick) Komaroff, began publishing the first local Jewish community newspaper, The Jewish Pioneer.
Temple Israel was established that same year, soon after Rabbi Louis Grossman agreed to serve as clergy for Long Beach's 125 Jewish residents. Rabbi Grossman lived in Long Beach only part of the year, and retained his position at Isaac M. Wise Temple in Cincinnati. He agreed to lead the new Long Beach congregation with one stipulation—he would exclusively conduct Reform services.
Orthodox community members bitterly opposed this proviso. However, Long Beach residents who favored Reform services raised a majority of the money needed to purchase a building. The four men who signed a $5,000 bank note for property on W. Anaheim Street—Ike Sukman, Ben Schwartz, Ben Lewis and Michael Weisz—became pillars of Temple Israel. Komaroff, the publisher, was also a prominent leader of the temple.
Initially, the Orthodox and Reform communities acrimoniously debated how services should be led. Attorney Harry Cohn suggested that the congregation split up, with Reform members of Temple Israel occupying the larger hall, while Orthodox Jews met in the smaller room. It was agreed that, following their respective services, both groups would come together to hear Rabbi Grossman's sermons. Thus, our Temple's beginning was steeped in controversy!
Temple Israel, with the larger congregation—and larger vote—quickly took over the community building on Anaheim. At the same time, temple members launched a campaign to recruit the growing number of Jewish families in town. Congregants hired Rabbi Julius Liebert as Temple Israel's first full-time rabbi, and Harry Cohn became the first president. Sisterhood was created in 1925 with 50 members. The women's fundraising efforts were so successful that, within three years, our Sisterhood affiliated with the national organization in New York.
Struggle and survival
In 1929, the Great Depression hit our members hard. Rabbi Harvey B. Franklin and the temple secretary would drive to members' homes throughout Long Beach, soliciting donations to keep the temple alive. They often begged for a dollar or even 50 cents. Meanwhile, the Ku Klux Klan and the white supremist movement were alive and well in Signal Hill.
When a major earthquake shook Long Beach in 1933, Temple Israel served as headquarters for relief efforts. This was the genesis of Social Action at our temple. UAHC (now URJ) raised $3,000 from donors nationwide to help repair Temple Israel's badly damaged building. Although the congregation had 124 members and was growing, Rabbi Franklin decided to step down to pursue other projects. When Rabbi Elliott Grafman took over, members were fiercely debating whether to renovate the damaged building or move out. Eventually, consensus emerged that the most logical step would be selling the building on Anaheim and building a new temple. David Feuer, a dedicated member and prominent real estate developer, found the lot at Third and Loma streets. Along with several other temple leaders, Feuer negotiated purchase of the land. (Feuer also bailed out the temple many times when it was in financial trouble). Some locals protested construction of a temple in their residential neighborhood.
The new building design was modeled after the much-admired Wilshire Boulevard Temple in Los Angeles. However, the original bid of $85,000 was far too high for the congregation. After many disputes, members finally agreed to a scaled-down design that was completed for $41,000. In 1941, Hannabelle Lieberman was hired for the position of temple secretary. In reality, though, she played the demanding roles of bookkeeper, manager and director. Lieberman's telephone voice in greeting became legend.
During World War II, 75 Temple Israel members served in the Armed Forces. In fact, Rabbi Grafman became an Army Chaplain, while Rabbi Franklin filled in during his absence. As Fred Masback recalled in his extensive history of our temple, during the war, Long Beach was "like an armed camp, with guns, fences, tents, camouflage nets, and barrage balloons…" This was due to Long Beach's proximity to the Pacific Ocean and the Japanese enemy.
By 1946, things were looking up. WWII had ended and many of our boys came home—although, sadly, some did not. The mortgage was paid off, dues were $60 a year, and Sisterhood continued to do the major fundraising. By then, Temple Israel claimed nearly 300 members. Rabbi Grafman led a synagogue that continued to follow Reform traditions. A bar mitzvah ceremony was a rarity, and talit and yarmulke never appeared on a shoulder or on a head.
Innovative leadership
By 1955, though, Rabbi Grafman had been replaced by Rabbi Wolli Kaelter—a creative and innovative leader. Membership grew exponentially; the Young Matrons emerged as an off-shoot of Sisterhood; and Brotherhood hosted its popular Duffy's Tavern, replete with temple members performing vaudeville numbers. Temple Israel's sizable teenage population joined Long Beach Temple Youth and attended UAHC camp in Saratoga. And, despite his age, David Feuer remained actively involved in the temple throughout this period.
Congregants noted the return of the talit, the yarmulke and Saturday morning services. Most notable of all was the newly present liturgical music. Kaelter was devoted to music and Temple Israel became known as "the singing congregation." Our religious school flourished—originally under the leadership of Nat Harrison and, later, led by the much-loved Mervin Lemmerman.  The temple grew to 440 member families, with nearly 500 students attending Torah School. Kaelter also believed in a "fair share" dues system, which evolved into a temple policy that continues today. Seniors Minnie and Stanley Zack organized and expanded the library (a status restored by current congregant Joan Leb and her committee). Rabbi Franklin fulfilled his dream of facilitating a "Sabbath Fellowship" morning event once a month for older adults, featuring Shabbat services, lunch and program. Today, this popular program continues to welcome Long Beach seniors.
Continued growth
By 1961 Young Matrons merged with Sisterhood. Rabbi Kaelter created Adult Confirmation (unfortunately after having canceled the teen confirmation!). The religious school created a new Hebrew program, and members began the annual tradition of hosting Sabbath dinners in their homes.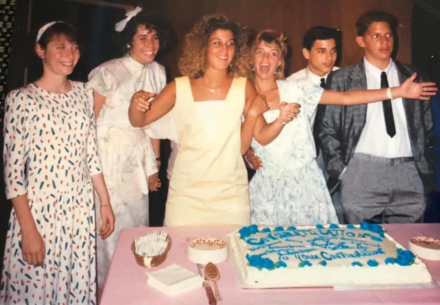 That same year, hoping to ease the overcrowding at Third and Loma, Temple Israel helped establish Temple Beth David in Westminster. Temple Israel members debated whether to purchase land and erect a new larger building. Ultimately, moving was deemed cost prohibitive, so members modernized the kitchen and added new rooms to the religious school. The temple dedicated a new marble ark and Eternal Light, and refurbished the sanctuary and choir loft. In 1972, a great pipe organ replaced the handsome electronic Baldwin organ the Sisterhood had purchased with donated funds. Renowned organist Lloyd Holzgraf accompanied services on Shabbat and High Holy Days until his death.
A major gift from Mickey and Dr. Gil Lapid funded an addition to the Torah Center. During construction, students met at the Lakewood Community Methodist Church. Generous donations from Monte and Peggy Abrams, members for just three years, helped sustain the temple.
During the 1960s, First Lady Eleanor Roosevelt spoke at the Municipal Auditorium in Long Beach. The talk, sponsored by Temple Israel's Kahn-Guggenheim Forum, stands out as a particularly auspicious moment in our history. During that same decade, both Rabbi Kaelter and Rabbi Franklin received honorary doctorates from Hebrew Union College.
Since 2005
Rabbi Steven Moskowitz assumed the pulpit in 2005. He helped heal a community fracture created when Rabbi Howard Laibson left for a position at another local synagogue. Momentum began to build for the temple to undertake a long-overdue remodel. A 2008 feasibility study concluded that the a capital campaign could raise about $3 million. Ultimately, generous supporters gave $6 million, far exceeding expectations! During building construction from July 2011 through October 2012, the temple fostered a relationship with a local private school to host our religious school. Leadership also worked closely with the Alpert Jewish Community Center, where Temple Israel held weekly Shabbat services and Torah study, as well as holiday celebrations.
Temple senior staff and leadership planned a year of special programs following the grand reopening of the building in November 2012. The celebrations included concerts, guest speakers and family programs. Membership quickly grew, filling the temple's beautiful new space. Temple leadership reached out to community members to develop a 3-year strategic plan. It focused on expanding community engagement—both programmatically and spiritually—and creating a welcoming environment. Soon after, the temple revised its membership contribution system to eliminate financial barriers for anyone wishing to join, signaling that Temple Israel is truly "an open tent."
Since then, the number of families with young children has continued to increase and our Torah Center is nearly bursting at the seams. Under the leadership of Sharon Brown, the school has risen to the challenge. Our ANDI Youth Group is among the most active in the nation. And the Temple progressed from a cantorial soloist to hiring its first ordained cantor, Sara Hass, in 2015. In June 2020, the congregation welcomed a new rabbi, Scott Fox. We look forward to continued growth in community participation for our classes and programs.
–History written by Harriette R. Ellis, with references from both Sidney Hartmann's "History of the Long Beach Jewish Community" and a history written by Dr. Fred Masback for Temple Israel's 50th Anniversary in 1974. Temple Israel Executive Director Eric Shatzkin wrote the section summarizing Temple Israel since 2005.