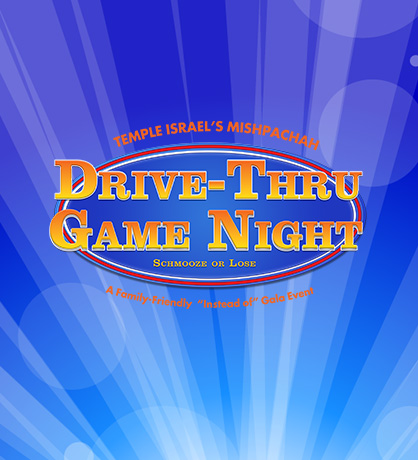 Temple Israel's Mishpachah Drive-Thru Game Night
Date:

Saturday, May 22

,

2021

Time:

5:00pm

–

7:30pm
SCHEDULE FOR EVENING PROGRAM
(Please plan to arrive at 5 pm)
5:00 pm – 6:30 pm
Check-in and drive through our Game Stations
(Sometimes you'll compete on your own, other times against other cars!
These stations will remind you of your favorite TV Game Shows!)
6:30 – 7:30 pm
Dinner, Havdalah and LIVE MUSIC!
Enjoy the rest of the evening from your car, in chairs we've set-up,
or on the grass – Whatever your comfort level!
Everyone will get a delicious boxed dinner prepared by Chef Peter Carpenter from Gourmet To You Catering, followed by a beautiful Havdalah Service and LIVE MUSIC featuring Eric Hirschhorn and his amazing band of musicians!
Please Contact the Temple Office to RSVP and for sponsorship information.